Is Jack Frost nipping at your nose? If you live in the Northeast or Midwest, chances are you've already pulled your winter jackets from storage as you get ready to brace for winter.
To prepare for the cold, there's a litany of items households can check off their list to make the chilly transition easier. Many people cover windows with clear plastic to provide an extra barrier against the cold. Others check the insulation around doors, making sure cold air doesn't enter their home as an unwanted guest. Another smart thing to do is make sure your snow blower is working properly before the snow arrives in the first place.
At Green Gobbler, we want to keep our driveways and walkways as safe as possible when inevitable icy conditions arise. We highly recommend stocking up on Snow & Ice Pellets before winter starts to keep ice at bay and your driveway and walkways safe. Here are the best benefits of Green Gobbler Ice Melt:
Melt snow faster. When snow falls fast, you've got the need for speed. Green Gobbler's Snow & Ice Melt works four times faster than rock salt by generating exothermic heat. It starts working immediately to keep your driveways safe.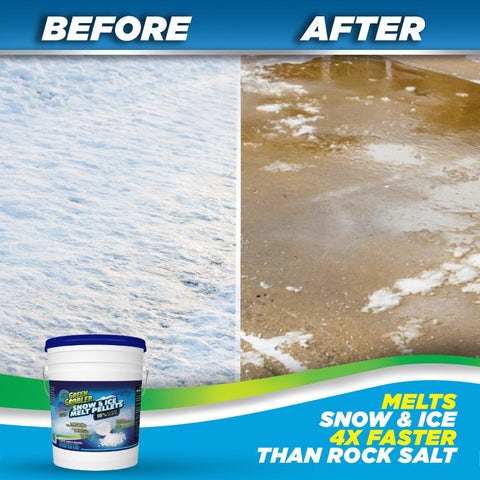 Living in a polar vortex? Green Gobbler's Snow & Ice Melt uses 96% calcium chloride pellets to work in temperatures as low as -40 degrees Fahrenheit. So if you're living in Chicago, Minneapolis or Siberia, Green Gobbler has your back.
Prevents ice. It stops ice from forming on asphalt, concrete, stone and more. You can even pretreat a surface before a blizzard hits to eliminate any potential slippery surfaces.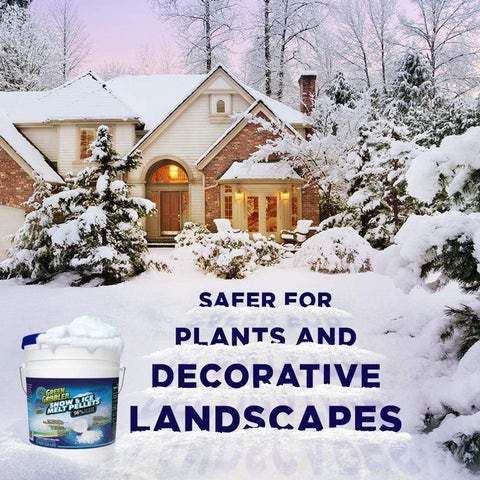 Safer for plants. Green Gobbler's Snow & Ice Melt is safer to use around vegetation than standard rock salt, meaning your beautiful landscaping will be ready to grow once the cold weather thaws and spring arrives.
Goodbye freeze-thaw cycles. Calcium chloride pellets are colorless, odorless and round in shape — a sharp contrast to rock salt's jagged granules. You won't have to worry about your concrete spalling, as calcium chloride lowers the refreezing temperature of melted ice to make the potentially harmful freeze-thaw cycle a thing of the past.
What is peace of mind worth? The last thing you want is someone slipping and falling on ice around your home. With Green Gobbler's Snow & Ice Melt, you won't have to worry if your property is safe for your family or guests. Ice Melt works better than sidewalk salt and keeps those closest to you safe from an icy fall.
Bundle up and stay toasty out there!