ARTICLE POSTED BY MAGALY "MAGGIE" TOMPKINS OF @JETPLANEMOMMY.
Magaly "Maggie" Tompkins is a wife, mommy, flight attendant and the creator of Jet Plane Mommy. She loves sharing a glimpse of her travels, recipes and DIY projects. When she's not flying the friendly skies, you can find her spending time with her daughters and husband. For a daily dose of family fun, recipes and mommy tips, follow her on Instagram at @jetplanemommy.
Family time is the most important time for us. And with every season, we have our favorite activities to do whether it's outdoors or indoors. Our favorite season of the year happens to be summer. We love being outdoors and finding ways to stay cool (because of course it's hot) and busy. Finding activities for the girls is typically somewhat of a struggle but it's nice when we find things they enjoy doing and a plus when mom and dad can join in on the fun. Am I right or am I right? Now tell me, which season is your favorite?
Some of our favorite activities during the summer consist of gardening, chalk art and creating our own little water park in the backyard for the girls. With gardening being at the top of their favorite hobbies, there's nothing better than seeing my sweet girls plant their own flowers they picked out. And let's be honest, what kid doesn't like to play in the dirt?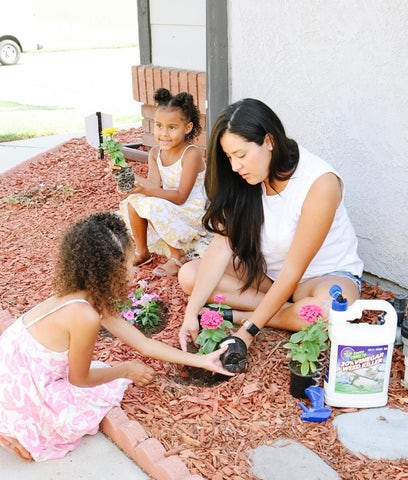 Tips on how to get your kids involved in gardening:
BOOTS – If you don't have these it's OK. Rain boots make for a solid alternate. These are great especially when it's time to water the plants.
GLOVES – My girls love wearing their gardening gloves, but we also have days where we love to get our hands dirty in the dirt. These are completely optional but always fun to have.
TOOLS – Gardening tools are a must, and they make the job fun! I typically get the girls tools at the beginning of spring for about $5.
SUNBLOCK & HAT – Always protect your skin. Especially the little ones. Whether you are gardening in the morning or in the evening, wear your sunblock and a hat.
The one thing that we consistently struggle with in our yard are unwanted weeds and grass. Luckily, we came across Green Gobbler 20% Vinegar Weed Killer. Green Gobbler is a vinegar-based weed killer free of sulphates, bleach, dyes and chloride. It's a staple in our household and we won't ever go without it.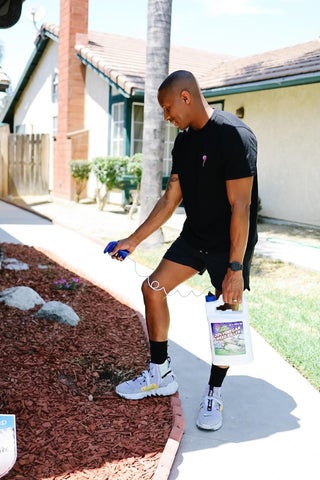 Reasons why you need Green Gobbler 20% Vinegar Weed Killer:

KILLS WEEDS AND GRASS FAST – Within 24 hours of spraying, Green Gobbler eliminates any type of weed. You can use it on dandelions, clover weeds, white clover, moss and more.
SAFER THAN SYNTHETIC WEED KILLERS – Yes, it's safe to use in a residential area. All you do is apply where weeds and grasses are not wanted. The product is ready to use right out of the container. Just attach the hand sprayer and spray the target areas. We personally don't like to see weeds or unwanted grass on driveways, sidewalks, concrete, mulch beds and flower beds. Within 24 hours those pesky weeds will be dry and ready to be pulled.
BIODEGRADABLE, NEED I SAY MORE – Made from corn, free of sulphates, bleach, dyes and chloride. This is the best weed killer we've ever used. We always try to use products approved for organic use.
*Weeds and grasses near desirable plants within flower/vegetable garden plants should NOT be treated with Green Gobbler 20% Vinegar Weed Killer.
I am happy to have this product easily available to us — it's very effective. A little goes a long way and I would not change anything about it. Our front and backyard look amazing thanks to the Green Gobbler. Make sure to order yours today over at greengobbler.com. This is a must for your yard!
Now tell me what are some of your favorite activities in the summer? Have you tried gardening with your little ones? What other gardening tips do you have for me? Let me know below.
XOXO,
Maggie