We love our pets and wouldn't trade them for the world. However, when it comes to making our pet-parenting journey a little easier, there are definitely a few things we wish we knew sooner. Here are four tips to make life easier for you and your furry friends.
1. Puppy Budget
We're not going sugarcoat it: Dogs can be expensive. You'll have initial upfront expenses when bringing home a dog (harness, dishes, pet crate, toys, etc.), consistent monthly expenses like food and a slew of less-frequent expenses such as vet checkups and grooming. Know your budget. Plan for what you can afford. You don't want to be in over your head six months into loving adorable Chewbarka only to realize you can't afford your lavish puppy-ownership lifestyle.
2. Beware the hair
Shiba Inu dogs can be so cute, but do you know how much they shed? We weren't quite prepared for our Shiba to blow out his coat so frequently, leaving giant tumbleweeds of hair blowing around our apartment. Owners of other big-time shedders like German Shepherds, Huskies and Golden Retrievers probably feel our pain.
Fortunately, we found the perfect weapon in the fight against pet hair: Gonzo Natural Magic Pet Hair Lifter. It's more effective than a vacuum or lint brush and removes pet hair with a simple swipe. It's made with natural ingredients and removes pet hair from clothing, upholstery, floors, drapes and more.

3. Pet Stains
We mentioned crunching the numbers before you take home a pet, but you also need to budget the proper amount of time and patience when pet mishaps occur. When pet messes strike, we turn to Bac-Out Pet Stain & Odor Remover Foaming Spray. It was an Eco Excellence 2021 Winner for Best Pet Products. It uses a natural, bio-enzymatic formula that eliminates stains and odors and is completely safe to use around pets. It can remove drool, vomit, blood, poop and urine. No pet problem is too big.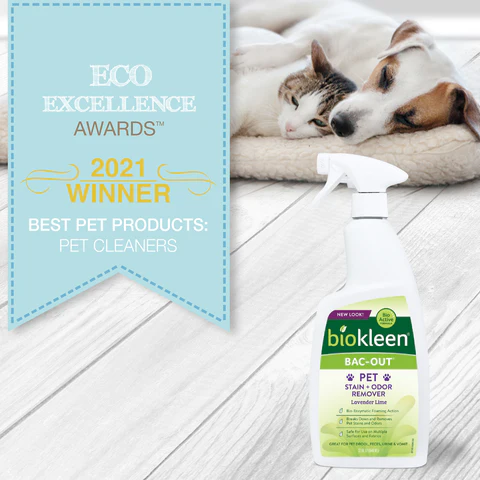 4. Winter Pet Ice Melt
For those of us who love a White Christmas and a little cold weather, we know that keeping driveways and sidewalks free of ice during the winter is crucial to your family's safety. But using salt to melt ice isn't the best idea when you have pets around.
That's why we felt so fortunate to find Green Gobbler's Pet-Safe Ice Melt. It uses magnesium chloride, which is much less likely to irritate paws or cause intestinal problems if ingested compared to other leading ice melt products. It's one less thing to worry when winter weather hits.