Rock salt. Calcium chloride. A high-powered flamethrower.
There are a few solid options to melt snow and remove ice when keeping a driveway safe from slick conditions. Although we can't attest to the flamethrower (we tried, R&D wouldn't approve), we've done extensive research on other ice melt methods during our quest to create amore effective alternative to rock salt.
What is Ice Melt?
You might hear the term "ice melt." In most cases, it's just an easier way to say calcium chloride, which can quickly melt snow and ice in temperatures as low as -40 degrees Fahrenheit.
In contrast, rock salt struggles to work at 10 degrees Fahrenheit.
Seeing the results, we developed a faster, smarter way to attack icy driveways: Green Gobbler's Snow & Ice Melt Pellets. They're made with 96% calcium chloride and melt snow and ice four times faster than rock salt. And when you're from Winterfell (or any northern city), that can make all the difference in the world when snowy weather strikes and you need to act quickly.
Fun fact: If you know a storm is brewing, you can even pretreat your driveway and walkways with Green Gobble Snow & Ice Pellets.
Driveway Maintenance: Rock Salt (sodium chloride) vs. Ice Melt (calcium chloride)
Calcium chloride pellets are colorless, odorless and safer for both the landscape and your driveway when compared to traditional rock salt.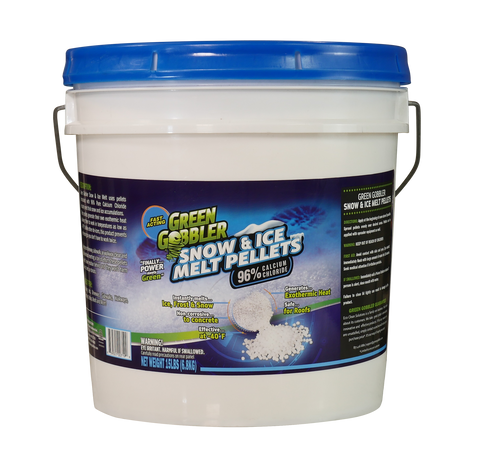 When cold weather hits, rock salt allows melt-off to refreeze. This starts a chain reaction of alternating freezing and thawing, which is not good for your driveway's appearance or lifespan.
Why? Concrete is porous and when ice melts, water finds its way into the pores. It then expands when it freezes again, breaking off microscopic chips of your once beautiful driveway.
Meanwhile, calcium chloride lowers the refreezing temperature of melted ice, helping stop the harmful freeze-thaw cycle.
Pet Friendly Ice Removers
One thing we noticed when doing research on ice removal: Pets and rock salt don't mix.
Whether the salt irritates their paws or they accidentally ingest calcium chloride, it's important to be careful with your furry friends when you're trying to keep everyone safe with an ice melt product.
That's a big reason why we developed Green Gobbler Pet Safe Ice Melt. We want to keep pets safe and make life as easy as possible when an unexpected snowstorm comes through.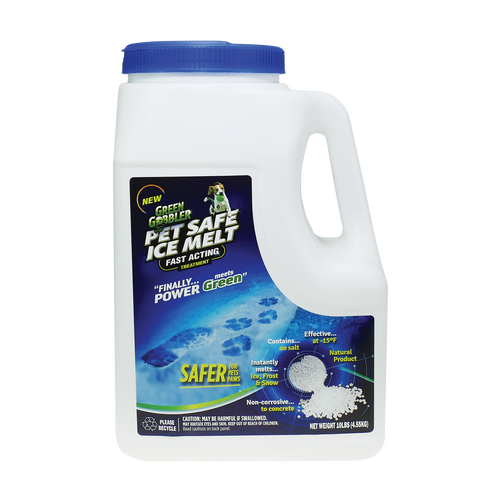 What makes Pet Safe Ice Melt different?
Green Gobbler's Pet Safe Ice Melt is made with magnesium chloride, which is less likely to irritate paws or cause gastrointestinal problems if ingested. While it's doesn't work at -40 degrees Fahrenheit like our Green Gobbler Ice Melt Pellets, our Pet Safe Ice Melt works in temperatures as low is-10 degrees Fahrenheit, which is 20 degrees lower than traditional rock salt.
It's also safer for grasses, bushes and trees. When the snow thaws, we want your landscaping to be the best on the block.