Article Posted By: Bre Eggert of Average But Inspired.
Bre Eggert is the founder of AverageInspired.com, where she strives to inspire creativity in the home by providing DIY and craft tutorials, furniture upcycle projects, and home décor ideas. For a daily dose of DIYs, home décor tutorials and much more, follow her on Instagram at @AverageButInspired.
Congratulations! The holidays have come and gone, and you survived. Take a moment to pat yourself on the back and then get ready to tackle five important things you need to deep clean after the holidays.
Don't be stressed. We're sure that you followed our 5 Tips For Getting Your Home Holiday Ready, so you're already in good shape! But even if you didn't, that's okay. Thanks to Green Gobbler, our post-holiday cleaning tips are totally manageable and will have your home looking and feeling fresh for the New Year with no need to call in any professionals!
So, are you ready to get your post-holiday cleaning plan together? Let's do it!
Deep Clean Linens After the Holidays
Even if the weather outside is frightful, your table linens and bedding can smell like a fresh summer breeze if you sanitize and wash them after the holidays. Carefully inspect all linens and bedding for stains and use a stain remover product (or a mix of equal parts baking soda, dish soap, and hydrogen peroxide) before washing in warm water. Ensure that everything is completely dry before folding and storing for later use.
If you're an overachiever (hey, we know you are -you're reading this article after all!), wash curtains and throw pillow covers in cold water on a gentle cycle to remove odors and dirt. Line dry, if possible, to avoid shrinking these measurement-specific pieces.
Post-Holiday Kitchen Cleaning with Green Gobbler
While you've got those linens in the washing machine, start deep cleaning your kitchen. Use your oven's self-cleaning function, toss any old food in the refrigerator and pantry, and empty your dishwasher's filter.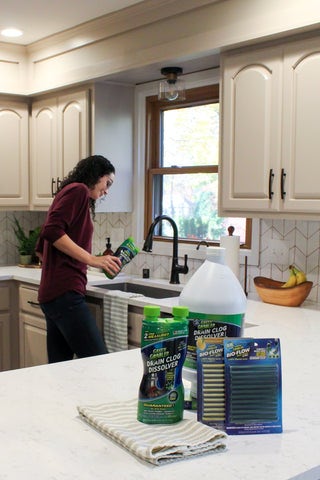 Then spend some quality time with your kitchen sink and garbage disposal. Drains and disposals pull double duty over the holidays: excess grease and solid foods that get poured into them can cause clogs and unpleasant odors.
Pour Green Gobbler Drain Clog Dissolver into your kitchen sink drain and let it sit for at least 30 minutes, but preferably overnight for best results. Green Gobbler Drain Clog Dissolver 31 oz.'s award-winning bottle is convenient with its premeasured applications — you don't even have to think about the correct amount to pour in the drain. It goes to work cleaning drains and garbage disposals of hair, soap scum and other organic materials. The best part is that it's safe on pipes (both PVC and copper pipes), and septic systems. It's also odorless and doesn't contain bleach or sodium hydroxide like other drain clog dissolvers do.
Going forward, incorporate Green Gobbler Bio-Flow Drain Strips into your monthly routine. Green Gobbler Bio-Flow Drain Strips are phosphate-free, biodegradable sticks that you place into drains once a month. They use slow dissolving enzymes to eliminate build-up and material lodged in drains, and they help ensure that your drains will continually run smoothly and be odor-free.
As with Green Gobbler Drain Clog Dissolver, Green Gobbler Bio-Flow Drain Strips are safe for PVC and copper pipes, as well as septic systems! They're available in a refreshing original scent and lemon scent, too.
Now here's the MVP tip of the day: while you let Green Gobbler do all the dirty work, pour yourself a cup of coffee and take a break. Nobody has to know that this part of the post-holidays cleaning routine is this easy!
Bathroom Cleaning After the Holidays with Green Gobbler
While we're on the subject of rooms that get a lot of extra use during the holidays and need a deep clean once they're over, let's talk about bathrooms. From extra primping time to more people and guests in the home, your bathroom works hard and needs some special attention come January.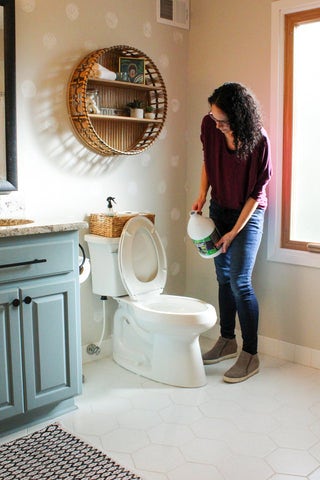 Green Gobbler Drain Clog Dissolver in the one-gallon size is just what you need to whip your bathrooms into shape. With up to eight applications per gallon, it's the cost-effective solution you want. And, unlike other drain clog dissolvers, Green Gobbler can be used in drains AND toilets!
Think of all of the bad things that might get flushed during the holiday season. From "flushable" wipes to disposable hand towels, giving your toilet some TLC is necessary. Thankfully, you don't even have to do anything gross to get your toilets in top working order. Just pour Green Gobbler Drain Clog Dissolver into the toilet and let it work its magic. Once you've tackled the toilet, give your sink drains and shower/tub drains some love, too. Soap scum, conditioner, hair, lotion, and more can all lead to buildup, clogs, and odors. But as with your kitchen sink and disposal cleaning, Green Gobbler Drain Clog Dissolver will take care of them safely, effectively and efficiently.
Don't forget to use Green Gobbler Bio-Flow Drain Strips as part of your monthly bathroom drain cleaning routine, too!
Almost forgot to mention, whether you're a lover of online shopping or going in store, these drain cleaning products can be found on GreenGobbler.com or at your local Home Depot!
Purge, Clean, and Pack Holiday Decorations
You're on a roll with your post-holiday cleaning, and now it's time to pack away the seasonal decorations. As tempting as it may be to throw them all into the basement without a second thought, your future self will thank you for taking a more organized approach to packing up decorations after the holidays.
Analyze each piece of holiday décor and decide if it's something you'll display again in the future. If not, donate it (if it's in good condition) or trash it (if it's broken).
Now, with a smaller pool of holiday décor left to deal with, dust and clean—especially the outdoor décor. Once items are cleaned, pack them into labeled boxes so you can easily find them again next year.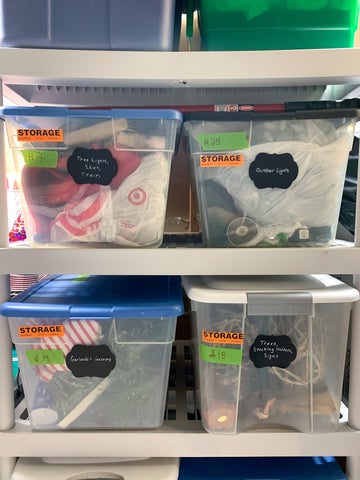 Post-Holidays Floor and Upholstery Cleaning
The last thing on your post-holiday cleaning list is flooring and upholstery. Think about all the people that walked on your floors this season (including Santa with his big 'ol boots), and lounged on your upholstered chairs and couches.
Yeah . . . you want to clean those.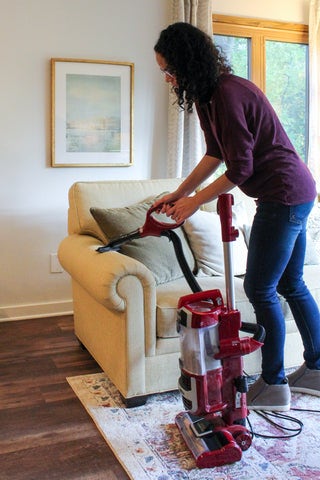 Of course you can vacuum carpets, rugs, and upholstery, but why not take it a little farther and also deodorize them with a mix of baking soda and a few drops of essential oils? And for hard flooring, make sure to wash with a cleaner that works for your flooring type.
****
See? Cleaning your home after the holidays doesn't have to be stressful or difficult. By following these tips and incorporating Green Gobbler Drain Clog Dissolver and Green Gobbler Bio-Flow Drain Strips into your cleaning routine, your home will be ultra-fresh for the New Year.